The Minecraft artist is Dock!
Hayden Scott-Baron (often known as 'Dock') created the characters in the LostWinds games for Wii, as well doing artwork for Rollercoaster Tycoon 3 and several other games. He is also an independent game developer, creating games such as Tumbledrop ( http://www.tumbledrop.com ).
When I sent out the request for artists, I got about 30 applications over just a few days. Some of those were really impressive artists with loads of industry experience, others were very talented pixel artists. But the one applicant I thought would fit best was Dock.
His sense of style and strong characters will combine well with the creative and playful feel of the game, and I feel it will add a lot of much needed personality to the game.
To start it off, he's designing a new logo for the game. This is the current version:

The logo says very much about the style and feel of whatever it is a logo for, and I think this is very friendly and playful, with a certain nice retro touch to it. It also incorporates the blockiness of the game with the clouds without giving it too much focus.
He's also been working hard on making player models. We just recently got the MD3 code to work relatively well (normal data is missing when there are animations! odd!). Here's a sketch of the direction we are going in: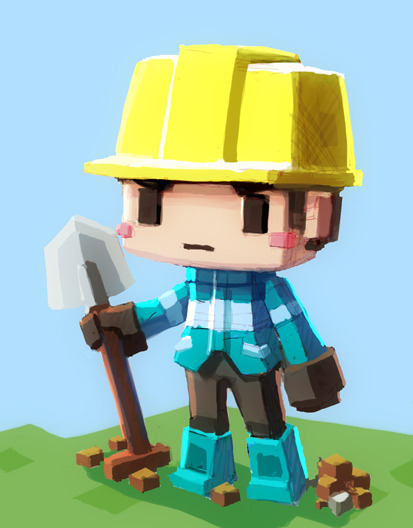 It isn't as square and blocky as the old models, and that kinda scared me at first. But when the more I thought about it, the more I realized that this was the way to go. Given enough square edges, the models will fit in fine, and these are much more customizable and have much more personality.
(If you're in love with your current character skin, don't worry; everyone who buys the game while it's still in alpha will be able to use the old classic model and skin.)
I'm very excited to have you help out with the game, Dock!
We'd love feedback on this, so either reply to this blog entry, or email me at [email protected]. So.. You like?